What is Laser Therapy?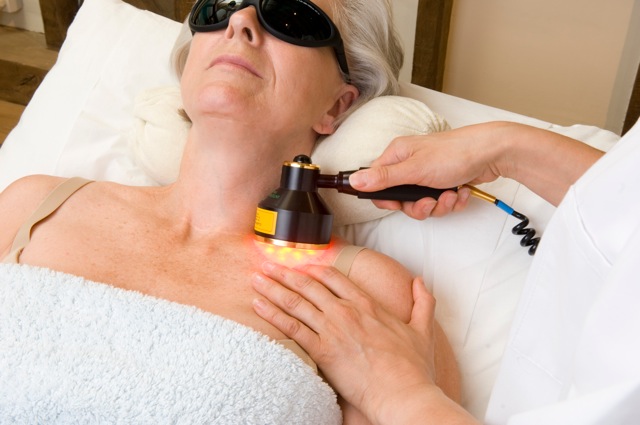 The Food and Drug Administration (FDA) approved LLLT, known by many other names, such as cold laser, non-thermal laser, soft laser, biostimulation laser, low-intensity laser, and low-power laser therapy, as an effective method for temporary pain relief. The LLLT is the type of laser most commonly used in your doctor of chiropractic's office.
LLLT improves tissue repair, reduces pain and inflammation wherever the beam is applied. Usually applied by a doctor, therapist or technician, treatments take about 10-30 minutes and should be applied two or more times a week. The Laser treatment is especially benificial when coupled with massage and/or soft tissue manipulation. LLLT has been used for years in many different countrys on sports injuries, arthritic joints, neuropathic pain syndromes, back and neck pain. Over 300 randomised clinical trials have been published on LLLT, half of which are on pain.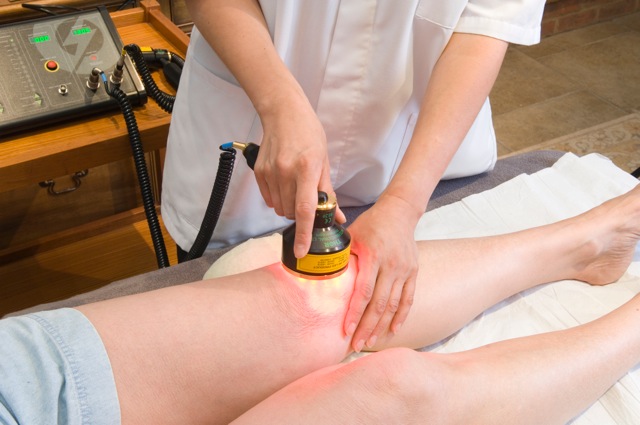 As a Therapist, I own & operate both the medical grade Thor Class III B Clinical and Mobile Lasers. Some of Thors other customers include the US Army, NASA, Harvard Medical School, Europes Royal Army, Royal Navy, Royal Airforce and many others. Laser therapy has been adopted as an essential pain management tool by athletic trainers in most major league sports franchises in the United States, as well as by many Olympic teams. Trainers claim that elite athletes make comebacks faster after being injured when LLLT is part of the treatment plan. Major league pitchers, for example, use lasers as part of a normal warm-up routine, and many athletes use them as part of rehabilitation.
Low Level Laser Light irradiation works to support the natural healing process of the body because it:

Donates photons and electrons to the injured tissues and weak cells of the body, which supports the production of ATP (energy) that is needed by cells to carry out their duties.

Reduces pain by causing the production of natural pain killer endorphins.

Reduces inflammation by suppressing inflammatory enzymes that create swelling, redness, pain, and heat and enhance the release of anti-inflammatory enzymes.

Enhances the process of nerve regeneration and muscle relaxation.

Enhances lymphatic drainage, which increases circulation, reduces edema and speeds healing.

Stimulate the release of helpful healing enzymes.

Releases tight muscles (both smooth and striated) that create chronic pain, joint problems, and decreased mobility.

Speeds bone repair by stimulating fibroblastic and osteoblastic proliferation.

Appears to be antiviral, antifungal, and antiherpetic when applied in the correct frequency.
There are two mechanisms of action for LLLT pain relief:
1. Anti-inflammatory. LLLT reduces oxidative stress: Mitochondria in stressed or
ischaemic tissues produce nitric oxide (mtNO) that binds to cytochrome c oxidase
competitively displacing oxygen leading to oxidative stress and reduced ATP
production. Light of suitable wavelength, sufficient irradiance and time when applied
to injuries is absorbed by cytochrome c oxidase displacing mtNO thereby reducing
oxidative stress and increasing ATP production. A cascade of downstream metabolic
effects lead to a reduction in inflammatory markers including prostaglandin E2,
interleukin 1β and tumour necrosis factor α.
2. Analgesia. LLLT creating a nerve block. Higher irradiance / energy treatments can
induce an analgesic effect by disrupting fast axonal transport in small diameter fibres,
in particular nociceptors. This temporary (reversible) inhibition of A-delta and C fibre
transmission reduces tonic peripheral nociceptive afferent input and facilitates
reorganisation of the modulation of synaptic connections. Repeated treatments lead to
a reduction in central sensitisation.
Why Do I Need Cold Laser Therapy?
Many of my Clients report relief from conditions such as:
Fibromyalgia

Back and Neck Pain

Low Back and Hip Pain

Arthritis and Sports Injuries

Sciatica and Tendonitis

Carpal Tunnel

Scar Tissue Reduction

Muscle, Tendon & Ligament Injuries

Pain Management

Post Surgical Wounds

Inflammation & Swelling

Wound Healing

Degenerative Disc Disease

& More
How Can Cold Laser Therapy Help In Rehabilitation?
LLLT usually requires more than one treatment for optimal pain relief. The benefits of LLLT are cumulative—it may take several treatments for the results to become evident. Spine-Health.com reports that it can take anywhere from eight to 30 sessions for the treatment to be fully effective, and some patients find it necessary to undergo treatment two to four times per week. The total number of treatments needed depends on the condition being treated, the severity of the condition, and each patient's individual response.
Over-treatment isn't possible, and an added benefit is that there is no recovery time so patients simply can read or relax during the typical half-hour treatment. Old injuries may be aggravated for a few days after treatments, but for most patients this sensation is short term, lasting for a couple of days.

Medicare and Medicaid do not cover cold laser therapy expenses. Some major medical insurance carriers do assist with payment and others do not cover any of the treatment.

Who Can Benefit?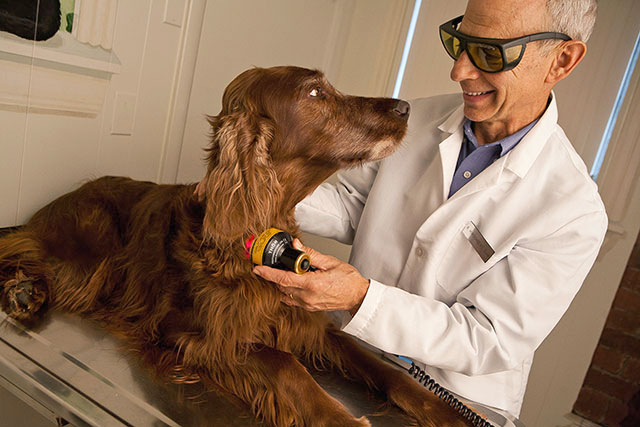 Anyone who has pain or injury - young & older, including animals.
Contraindications

Cold laser therapy should not be used over any suspicious cancerous lesions, or carcinoma, over the thyroid, on pregnant patients, and there should not be direct irradiation of the eyes, as the laser can cause permanent damage to the eyes.

Pregnant women are recommended not to undergo the procedure, since its effects on unborn children are not yet known. The doctor and the patient should use protective eyeglasses so that there is no direct eye exposure.